Education Maven with Tracey Hughes in American Salon magazine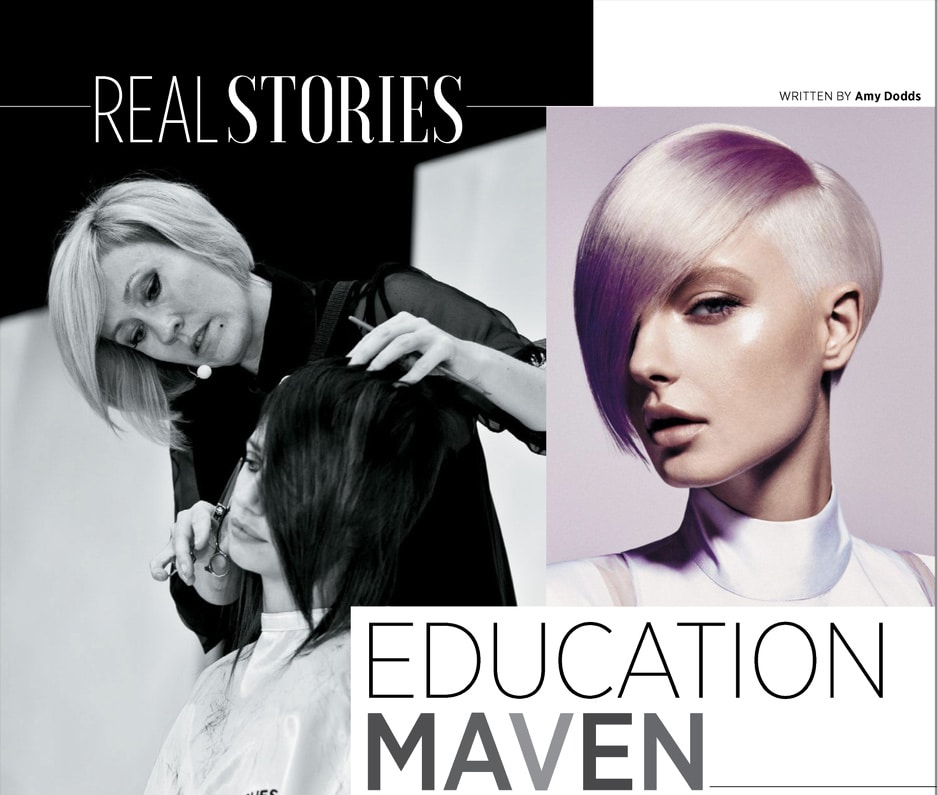 Educator, salon owner, session stylist, motivational speaker—Tracey Hughes can seemingly do it all. We sat down with the hair expert to talk about her philosophy on education, her advice to stylists and her obsession with her dog.
Q. Tell us about your background.
A. I grew up in England, and began my hairdressing career in the U.K. in 1986. I initially had visions of becoming a barrister [lawyer], but I listened to my instincts and had a sudden change of heart. The day I started hairdressing I knew this was what I was meant to do. Like many English who end up in Australia, I initially went Down Under to backpack and then migrated permanently. Sadly, after 18 years an unforeseen circumstance meant I lost my business, my team, my income—and of course it was heartbreaking. After any loss comes growth, and I embraced the change and took this an opportunity to focus on my education company, Tracey Hughes Education. So I applied for a U.S. visa, packed up (once again) and moved to L.A. My dog then followed and six months later my husband joined me after he sold our restaurant. Now we are here to stay.
Q. You have many accolades to your credit, Educator of the Year, Salon of the Year, the list goes on. To what do you attribute your success?
A. My success has come about through hard work, high energy, attention to detail and the will to constantly keep striving to be the best version of myself I can be. To be honest, though, the most successful moments have usually not been about myself at all, but rather when someone I have mentored has achieved an unforgettable moment that I have had the privilege to be part of.
Success to me is simply happiness. Whatever makes you happy, whenever you feel you're making a difference, that's success to me. However, I have to say that being honored with "Australian Masters" meant the most to me as that's not something you can enter or compete for. It's kind of like a hall of fame as it recognizes the contribution I have made to the industry.
Hughes is a Certified Public Speaker from the National Speakers Association.
Q. In your opinion, what are some of the top things that stylists are doing (or not doing) that stop them from really achieving greater professional success?
A. A great hairdresser needs strong technical skills, knowledge, solid communication, a robust work ethic and team spirit. An excellent hairdresser must also be selfless and have respect for others. The most common mistake new stylists make is being impatient. It's wonderful to be driven—however, it takes time to master the art of technique. Also, many stylists aren't always making the most of the educational opportunities that are available to them. Without a commitment to continual training, you will stagnate and then can become complacent toward your clients. Rather than sourcing quick fixes of inspiration, invest in real education that will guarantee real results.
Q. What does Tracey Hughes Education offer?
A. We aim to provide the highest quality of personalized tuition to support skills growth and business development. We provide technical workshops, inspirational seminars, business programs and motivational keynote talks. Plus, I have developed training resources and digital lessons, along with a range of shears.
My unique Teacher Training program is the most popular. As the only Certified Speaking Professional in our industry, I love coaching others in their presentation skills and facilitation delivery. This program develops other educators and emerging artists in their ability to teach, therefore ensuring evolution in industry growth.
Q. What inspires you every day?
A. I find inspiration from lots of different avenues. I thrive on new ideas and projects that push me to develop my mind further. As an educator I am very self-inspired, as I love to challenge my personal limits. Hair inspires me. Perfection inspires me. Knowledge inspires me. People inspire me.
Q. What do you do for fun that isn't hair-related?
A. I appreciate the quality time I spend with my hubby, as he is still my hero who makes me smile, laugh and I cherish our life together. Since I travel every week I have no normality or routine in my life what so ever so my happiest place is home with my hubby and my dog. Fun to me is the pure simple things like playing with my dog on the beach. (P.S. I'm totally obsessed with my dog.)
Hughes poses with her models at the International Beauty Show New York.
Q. Why do you do what you do?
A. Put simply, I just love what I do. Teaching others can open minds and inspire hope, and that privilege is so rewarding, especially when you witness light-bulb moments. Big changes and new directions are what make life so exciting. We are only given one shot at this life so I make the most of this and stay present in the moment and enjoy!
For more information on Tracey Hughes' educational opportunities, visit traceyhughes.com.au.